Choosing a reliable, user-friendly, and highly optimized performance platform is key to a RevOps strategy. In this blog post, we will tell you what ​​to consider when building your tech stack and why we believe that HubSpot is the best tool for it.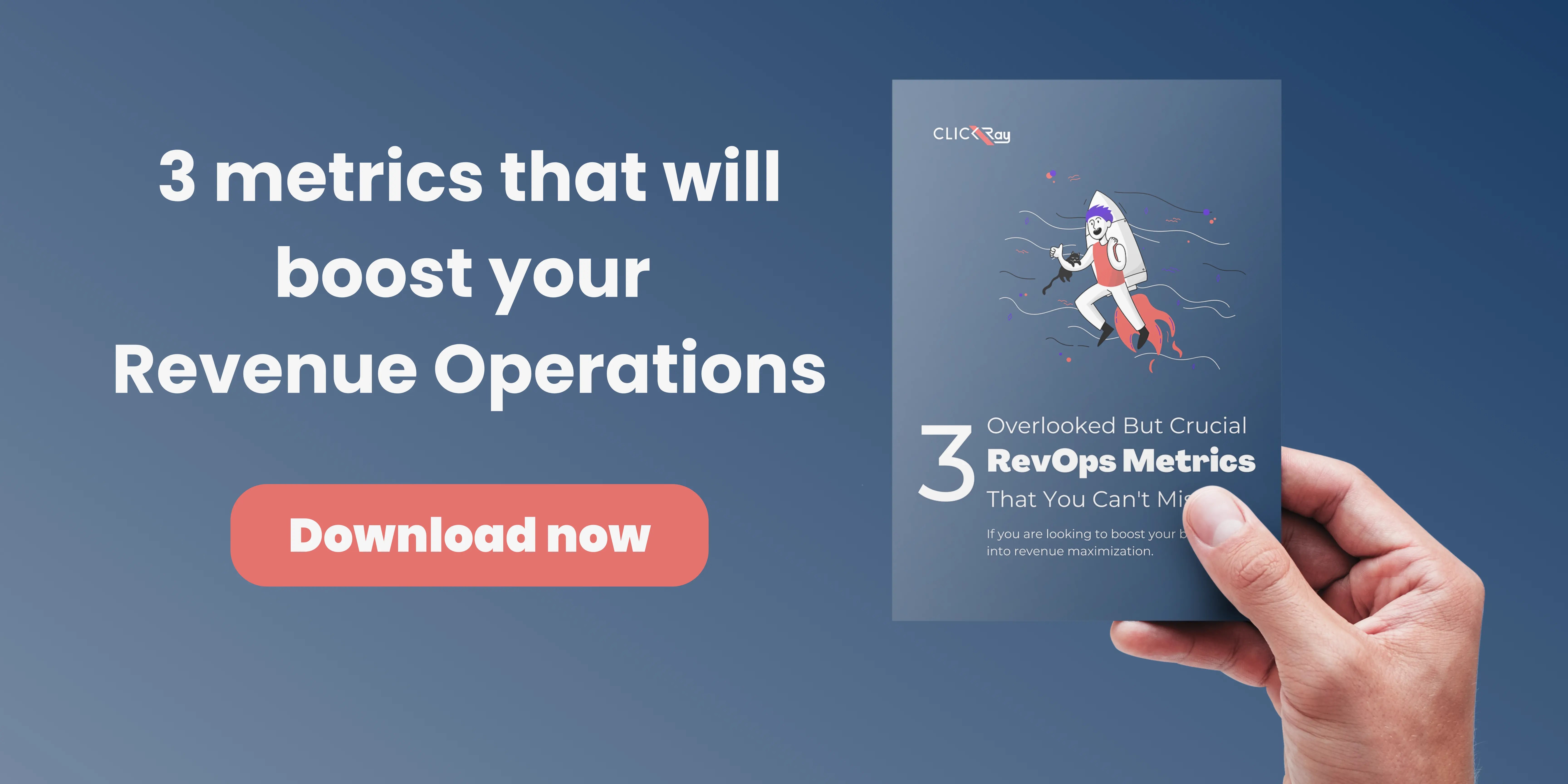 First, let's start with a brief reminder of what is Revenue Operations.
Revenue Operations (RevOps for short) is a method for scaling your business, which improves communication between marketing, sales, and customer service/success departments based on smooth data flow, in-depth analysis, and modern technology focusing on automation.
And the goal of RevOps is to maximize your business' revenue growth.
As you might remember from previous posts (about the meaning, structure, and benefits of RevOps as well as the one describing how does a successful revenue operations strategy look like), one of the pillars that RevOps model is based on is "Systems", which presents a unified and automated tech stack prepared for data exchange between the departments.
So, let's get to business by first defining who you are and what are your needs.
Here's the big picture: You are a mid-sized company offering B2B products or services in the cybersecurity sector. In your company, there are the marketing, sales, and customer success departments.
Currently, your data is siloed between misaligned teams who are not really efficient in their current technology, therefore the entire process is not working and you are being told that the company is not driving enough revenue. Ugh! The worry is that in the current day and age, the company you are a part of while helping them become successful is tanking - there's a lot of stress involved.
Well, one of the solutions is to implement a unified tech stack that will become the foundation of your RevOps processes.
While your ultimate business goal is to generate more revenue, there are other goals that come with that:
Produce more sales-qualified leads (Marketing);
Close more deals (Sales);
Increase the customer retention rate (Customer Success).
As these look like goals of three different departments, you need to make sure that you align the marketing, sales, and customer success operations across the entire customer lifecycle in order to drive revenue. And what's the best way to accomplish that? With a unified tech stack that drives full-funnel accountability.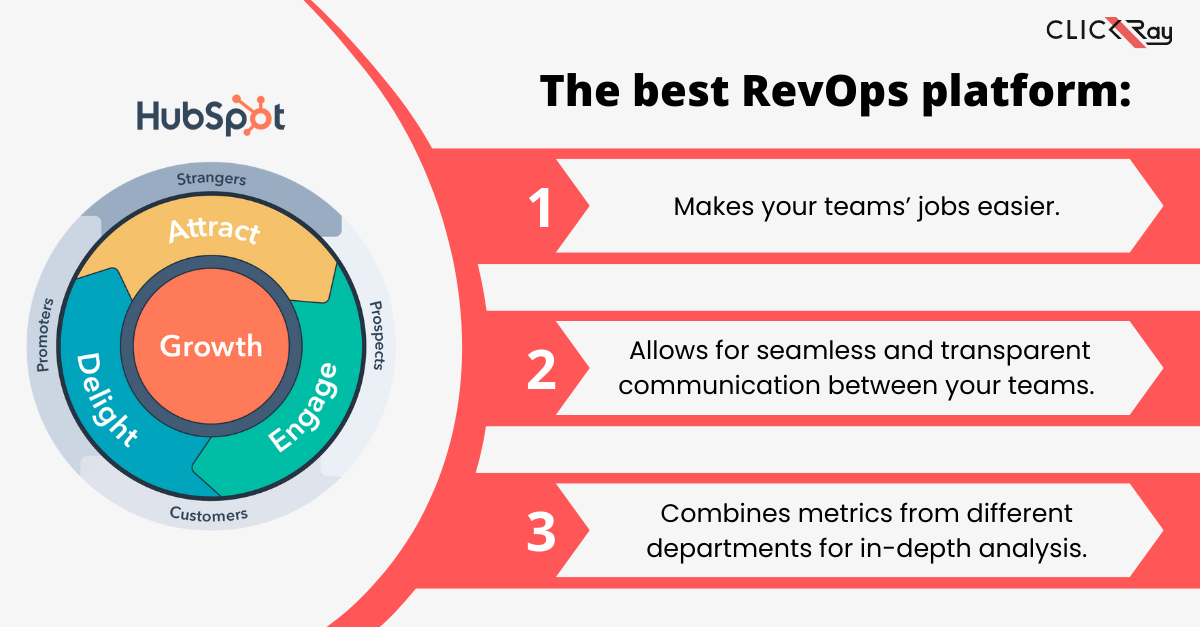 So, what do you need to consider when choosing the appropriate technology?
1. Choose software that will make your teams' jobs easier (hint: optimized and automated tools).
First thing first, you want to elevate the efficiency of all your teams. Therefore, you need the right tool that will make their processes less manual and menial so they can focus on achieving their goals. HubSpot does that perfectly with their Hubs.
CMS Hub
There's a saying that we coined, which is "Your website should be more than 'just a business card'". And we cannot tell you enough how true this is. The website should be built for generating leads - because when you're not generating leads, you are not generating revenue. HubSpot's CMS also provides a friendly content editing experience (with a drag-and-drop editor and SEO recommendations) that can be used on a daily basis by marketers without any developer intervention.
Marketing Hub
This is the tool that unites all the marketing activities - from social media postings, through Google Ads, to Account-Based Marketing. With HubSpot, marketers are able to easily manage their email campaigns and marketing contacts, personalize content, as well as automate cross-functional operations.
Sales Hub
Probably our favorite Hub - the Sales Hub can mirror the sales process in a digital space, where everyone can keep track of their deals. With automated personalized email templates and follow-up tasks, document management and tracking, an intuitive meeting scheduler and fast quote generations, closing deals become a breeze.
Service Hub
There is nothing better than being in control of your work. And your team can feel that by creating a secure customer portal for ticketing, in-depth knowledge base, live chat, and omnichannel messaging with Service Hub.
2. Choose software that allows for seamless and transparent communication between your different teams.
In the Revenue Operations strategy, it is crucial for teams to be able to communicate and exchange information so that not only your customers can receive the best service possible but also to make sure that there are service-level agreements between the marketing and sales teams for passing on sales-qualified leads (because not every lead gained is ready for purchase).
For example, HubSpot allows you to set SLAs in the inbox to help sales reps prioritize incoming tickets based on their importance and ensure that they meet customer expectations. Another way to make sure correct information is passed on is by using common properties throughout the marketing / sales / customer service process so that each of the departments can access the appropriate information.
3. Choose software that combines metrics from different departments for in-depth analysis.
Have you ever wondered how many leads marketing brings become long-term customers? Or what's the total Customer Acquisition Cost (CAC)? And how does customer success impact sales through renewals, upsells, and cross-sells? Using HubSpot as a single source of truth, you will have all the data available at your fingertips to understand the big-picture of your revenue generation strategy. Define metrics that depend on each other to create custom reports that up your revenue growth game.
To summarize, choosing a unified tech stack is easier and better in the long term because you have a single source of truth from which you can source real data and make reliable business decisions. It also helps to align your teams to make the entire sales process more efficient.
Build your revenue-generating machine with ClickRay.
This blog post is part of ClickRay's RevOps series. Do you want to gain insight into how to successfully implement a RevOps strategy that drives meaningful results of revenue growth? Read more of our articles: