In today's world, businesses need to stay competitive by finding ways to reduce costs while still achieving growth. One potential area for cost savings is in your customer relationship management (CRM) software. Specifically, if you're currently using Salesforce, you might want to consider switching to HubSpot. Here's why:
Argument #1: Lower Pricing
Argument #2: User Adoption & Implementation Savings

Argument #3: Holistic Support
Conclusion: Reduction In Cost Without Sacrifice
HubSpot offers a more integrated solution for sales and marketing that's both cost-effective and user-friendly. In this blog post, we'll take a closer look at how HubSpot is more user-friendly than other CRMs on the market.
Argument #1: HubSpot Offers Lower Pricing
First, let's talk about pricing. Salesforce is well-known for being one of the most expensive CRM solutions on the market. While the company offers a range of different plans, even the basic plan can be quite pricey. HubSpot, on the other hand, offers a free plan as well as a range of paid plans that are generally more affordable than Salesforce's equivalents. For small businesses or startups, this can be a significant advantage. Even for larger companies, the highest HubSpot Sales plan - Enterprise - brings the cost down by more than 100,000 USD as compared to the highest Salesforce Sales tier.
Argument #2: User Adoption & Implementation savings
But the cost is only one part of the equation. What about savings? Here's where things get interesting. While Salesforce is undeniably a powerful and feature-rich CRM, it can also be quite complex to use. This means that it often requires a lot of training and support, which can add up over time. By contrast, HubSpot is designed to be user-friendly and intuitive, so you may be able to save money on training and support costs.
Argument #3: Reduction In Cost Without Sacrifice
Another area where HubSpot can save you money is in its all-in-one approach to marketing, sales, and service. While Salesforce does offer marketing and service features, these tend to be more limited and may require you to invest in additional tools or integrations. With HubSpot, all of these features are included in one platform, which can save you time, money, and hassle.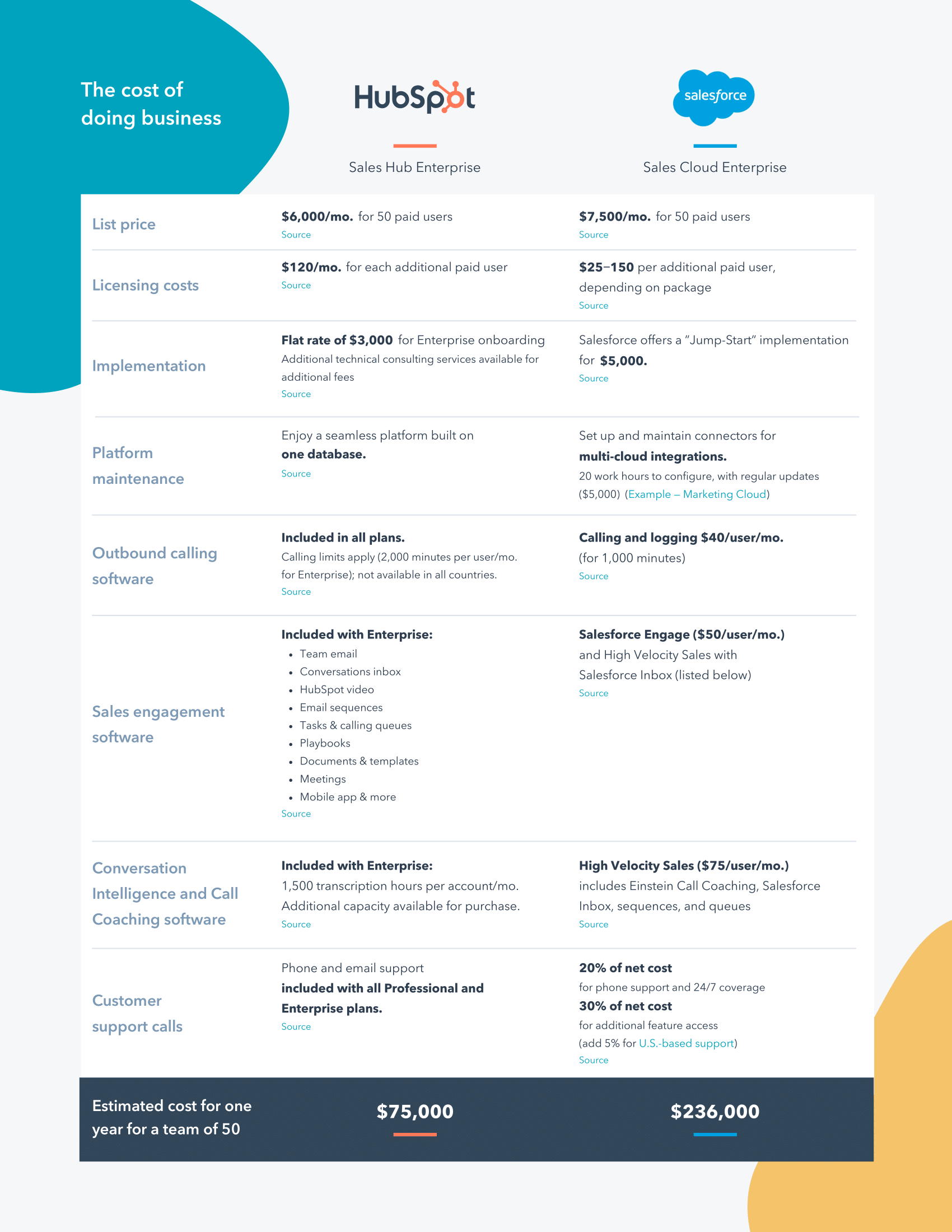 Of course, cost and savings aren't the only things to consider when comparing Salesforce and HubSpot. It's also important to think about the specific needs of your business and whether each platform can meet those needs. That said, if you're looking for a CRM that offers a great balance of features and affordability, HubSpot is definitely worth a look.
Estimated savings with HubSpot
(compared to Salesforce)
$100,000+
Conclusion: Reduction In Cost Without Sacrifice
To sum up, if you're looking to reduce your CRM costs without sacrificing functionality, switching from Salesforce to HubSpot could be a smart move. With more affordable pricing, a user-friendly interface, and an all-in-one platform that covers marketing, sales, and service, HubSpot offers a compelling alternative to Salesforce. To learn more about how the two platforms compare, check out a detailed comparison and pricing analysis of Salesforce and HubSpot.
Build your revenue-generating machine with HubSpot, today!