Video marketing is all around us. If you are on the Internet, you are probably seeing more and more videos popping up on your feed - anything from YouTube tutorials to TikTok's clips. Video marketing is changing the way users interact with products but most importantly, it is changing the Internet.
Already back in 2015, Forbes published an online article How Video Marketing Is Changing Online. They saw through the rising popularity of on-demand video content. Why do people love videos? Because you can visualize the more "human" side of a business - whether present "behind-the-scenes" content or show a real-life review of a product by a person. And in 2020, video became more important to consumers than ever before. Why? Because due to the lockdowns, people retreated to video content to compensate for the lack of human interaction.
But that's only the theory, let's look at the numbers behind it. ​​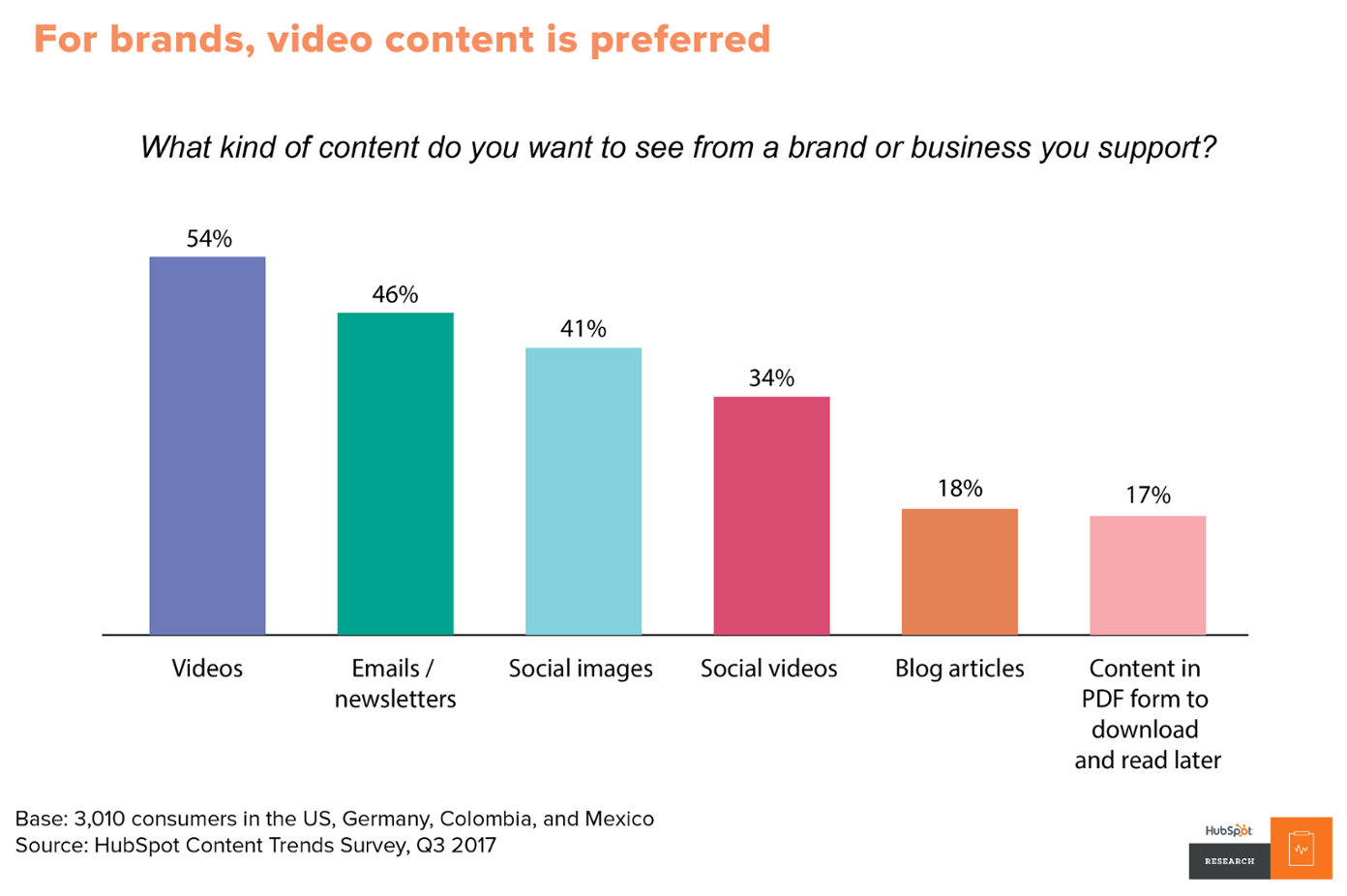 Media uploads increased 80% from 2019 to 2020. [1] Today, 86% of businesses use video as a marketing tool and 93% of marketers who use video say that it's an important part of their marketing strategy. [2] When it comes to sales, 90% of users find product videos helpful in their decision-making process wherein 92% of mobile video consumers share videos with others. Moreover, including a video on the landing page of a website can increase conversion rates by 80%. [3] This is huge!
Then why is video engagement increasing at a rapid rate? Because:
It is easy to access and enjoy on the move;

Can develop stronger emotional connections in people.
That is why video marketing is more likely to increase conversion rates.
So, what can you - as a HubSpot user - do with video content? There are many opportunities for you!
First, choose the type of marketing video content you want to present on your website: from demo video through expert interviews to live videos (HubSpot lists 12 different video types you can create). You can embed any of these videos in HubSpot-hosted pages, be it a website page, a landing page, or even an email template. This is because recently HubSpot launched the new video functionality within their CMS that allows users to upload video content directly on the page to a drag-and-drop module. But that is not all. HubSpot enables you to capture leads with videos using overlaid forms and CTAs to convert users when they're most engaged. The analytics tool allows you to track the video data directly in your CRM, meaning that you can see video views on contact records, measure video performance with web page analytics, or build custom reports to see how video influences metrics like revenue and conversions. However, HubSpot's video features are only available in premium editions of Marketing, Sales, Service, and CMS Hub. If you are not in a position to invest that much money in the high-cost plans, HubSpot welcomes other alternatives, such as Vidyard or Wistia, which are third-party applications available to purchase in the HubSpot App Marketplace.
Both of these apps focus on analytics, and most importantly, capturing leads. Video is an incredibly powerful tool for lead generation. Besides forms and CTA, you can also create video-specific gated content. This could include premium videos upon purchasing a membership plan. The video then becomes the offering that you make in exchange for a prospect's information. [4] For example, this would work great if you have a culinary company and present video content teaching people how to cook (think of MasterClass). You can also create a video post-click landing page. So, if you are selling e.g., hair products, you could offer a short instructional video or a customer review after a visitor fills out a form successfully. This will help persuade the prospect to submit their information. [4]
All in all, as video presents higher engagement and is increasingly in more demand, you should start using it in your marketing strategies for lead generation. It is not easy, it takes time but the results are fruitful. Consider this, would you rather be reading this blog post or watching a person talk about it in a video?
---
Sources:
[1] HubSpot, "Not Another State of Marketing Report 2021" 2021. URL
[2] Wyzowl, "​​The State of Video Marketing 2021" 2021. URL
[3] DEPOSITPHOTOS, "​​2017 Video Marketing Stats: Why You Need to Start Using Video [Infographic]," 2017. URL
[4] Ted Vrountas, "How to Generate More Leads with Your Video Marketing." Instapage. 2020. URL