Managing websites that possess multiple domains and are presented in different languages can prove to be a hustle: hundreds of pages and seemingly unlimited content spread through multiple places. Organization is key and CMS is the key element that will help you access and edit your sites swiftly. In this article, we will aim to answer the question, Why is HubSpot CMS the best system for managing multi-domain and multilingual websites?
(Source: HubSpot)
Let's begin by explaining what different types of 'domains' are and what domains we will be focusing on in this article.
Brand Domain is the main portion of the URL that defines your brand name. Subdomain is the beginning part of the URL that comes before the 'brand domain'. It can be either www.brandname or docs.brandname. Subdomains can help you divide your website or create seperate sites. However, using multiple subdomains for defining new sites and organizing your website implies an over excessive use of a lot of resources as the management of this type of domains is time and cost consuming. This process can be scaled down when focusing specifically on Top-Level Domains (TLDs) that represent the ending of the URL. They can be either generic, e.g., com or .org, or country-specific, e.g., .de or .ch.[1]
TLDs are specifically important when creating multilingual websites. They can vary depending on the geographical location or language preference of your visitors and that is why this approach to creating multi domain websites best suited for companies that have broad audiences in different countries. TLDs represent a great strategy for the long term as they provide a clean URL and a strong country-based brand recognition.[2]
The main challenge that arises from managing multi-domain websites is that most often that not, it is managed through multiple instances in your CMS. Imagine you have a site that consists of 416 pages divided into the following categories: 321 blog posts, 80 site pages, 10 landing pages, and 5 system pages. If these categories are created based on different subdomains, then the organization of your website becomes more complicated as you will be able to access them only through different instances in your CMS (think of them as accounts).
Updating Content on Existing Sites
You've got already a lot of content to manage on your main website but when you want to have it translated to multiple languages, then the workload greatly increases. For the sake of this example, let's assume that your site is localized in three languages: English, German, and Spanish. The simple equation, 3 (languages) x 416 (pages), proves that you've got 1248 pages to manage in total.
Or let's assume that your company is releasing new products or making product updates. This means that you have to change content on all product pages, landing pages, and certain blogs that write about the product. This can be a very challenging and demanding process to manage content creation, but if you have a system that is very rigid and, for example, needs separate instances to manage different domains then not only you are struggling with the content creation but also with the process of getting that content live on proper domains. In this case, you will need to log into each instance individually, make appropriate changes, and repeat the process for each domain.
Creating New Sites on Subpages
Things get even more challenging if you need to create new sites on subdomains. Then the whole process is very cumbersome and time consuming as it has to be repeated on each instance separately. If you have dedicated websites with different domains for each different country location or language variation, you would have to go through the process of creating new subpages separately.[3]
Let's think of a point in time when you just want to change the page content to a different language but keep all the modules in the same form. If you are using different instances with different subdomains for each category, you won't be able to duplicate your pages in between different instances as you can only create new ones. That means, creating 832 new pages! That's a lot of time wasted.
Managing different domains through different instances is an extremely time consuming process. But there's a way to avoid this! You will need to have one centralized instance that will allow you to easily manage all your website content in one place instead of using different instances for each language or domain variation. A way to achieve this is to use HubSpot CMS to manage your multi-domain and multilingual website.
HubSpot CMS allows you to keep all your website content within one instance using different TLDs instead of subdomains. This means that you will have a one centralized instance for your website instead of using multiple of them as the base domain remains the same. This will help you to create, duplicate or edit your content swiftly and timely with minimal effort.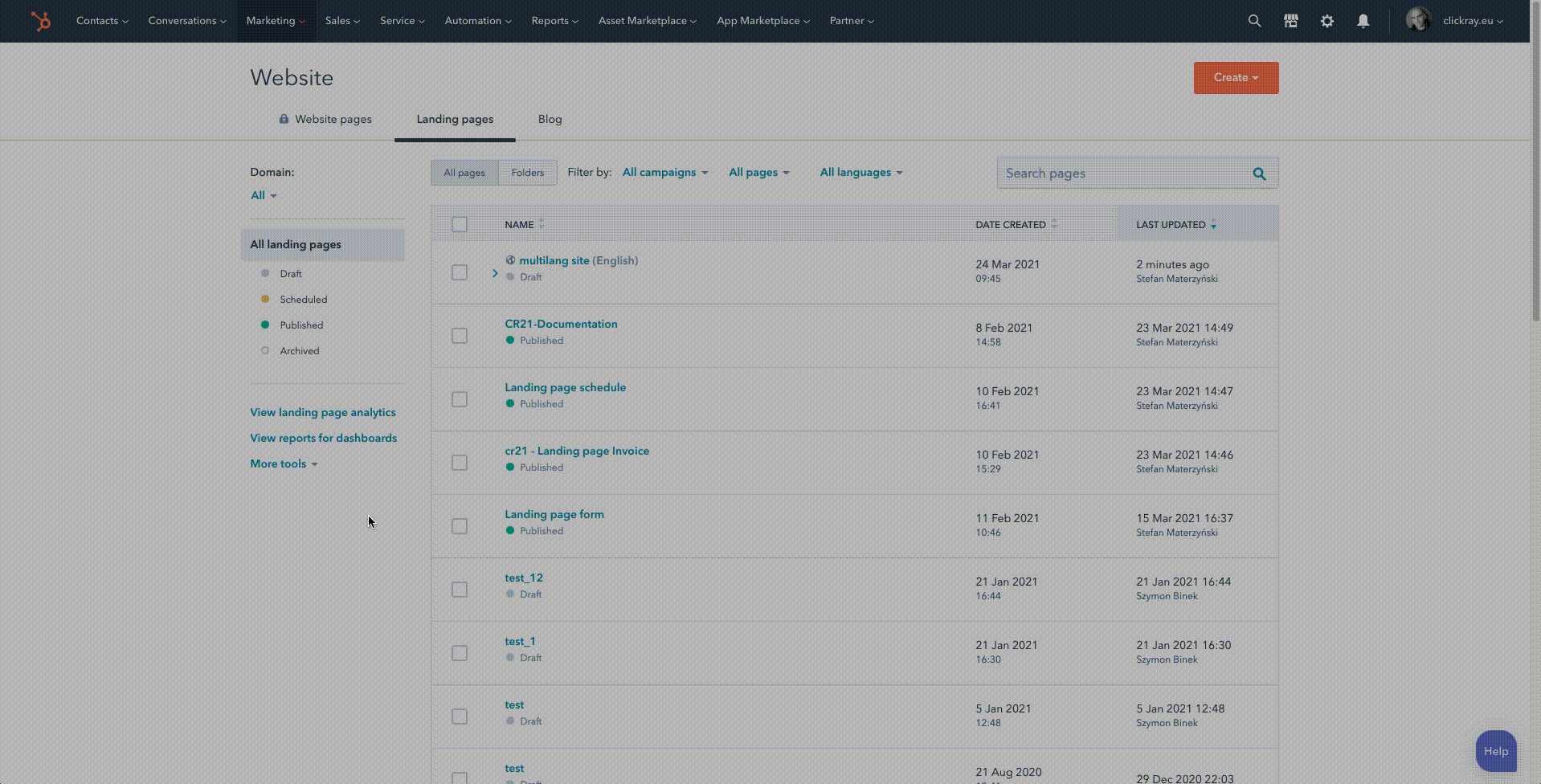 If you have different language-specific top level domains, you can connect them and use them interchangeably depending on the language of each page. Simply go to the Settings tab of your page and choose the desired domain that you want your page to appear on. Then you can select the primary language that matches your content. You can do that with multiple domain and you can always use the language switcher with it as well.
With a HubSpot's CMS Hub Enterprise account, you can use an unlimited number of TLDs for your brand domain. This means, you can connect language-specific TLDs and use them interchangeably depending on the language of each page - e.g., www.brandname.com or www.brandname.de or www.brandname.es. This would require you to purchase each domain separately and connect them to HubSpot.[4] Nonetheless, this option allows you to have one centralized instance where you can manage all your domains in one place. Multi-domain websites are best used if you want to create region-specific content, meaning that your brandname.de and brandname.es present different products or services based on the geographical location of your visitors. Or if you are a company with different departments and you want each department to manage their own content with a centralized admin oversight while keeping the look and feel of your website consistent.[5] Multi-domains also work better in terms of SEO as Google can recognize these specific sites in their search engine when a user searches for information based on specific language or geographical keywords.
The Language Switcher Function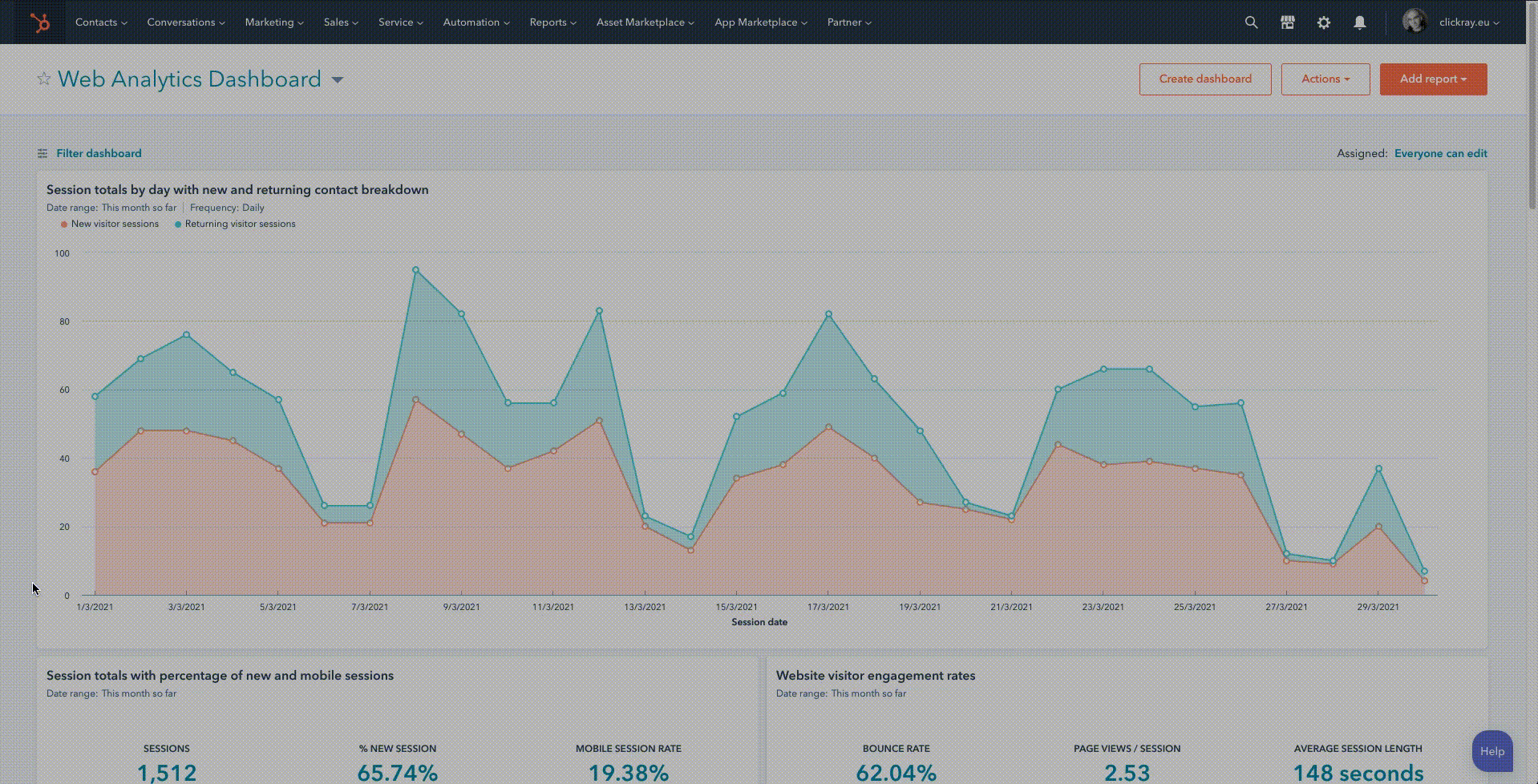 To use the language switcher function, view the list of your website or landing pages, then select the desired page you want to duplicate by clicking on the button "more" and "create a multi-language variation". Then, select the language you prefer. This will duplicate the existing page so all you need to do now is to input the translated content! Both the back-end and front-end users will be able to swiftly maneuver through the translated pages.
For those looking to create multilingual variations of your website that only translates the same content should make use of HubSpot's language switcher module that is available to all websites in all HubSpot CMS packages. For landing pages or website pages, you can create multi-language content to link the translated versions of your pages on the same domain with only a different subcategory. You will need to set a primary language of your domain, e.g., English in www.brandname.com and then use the language switcher function to duplicate the page and change the content based on a new language, resulting in e.g., www.brandname.com/de or www.brandname.com/es.[6] This option is best suited for those who do not possess location-specific products or services but rather want to reach broader audiences through translating the pre-existing content into a different language. In addition, the language switcher functionality proves easy to use while managing multilingual website because it groups the language variations together and makes it easier to find desired sites by the end-user.
Ultimately, HubSpot CMS is a great system to use because it allows you to manage your website in one place, which means faster and easier page-level organization as well as streamlined workflow management, all while keeping your content and branding consistent.
Benefits of HubSpot CMS for multi-domain and multilingual websites:
Managing content for multiple sites in one place.
One centralized system that allows us to oversee content of different domains.
Creating location-specific content for different domains;
OR translating pre-existing content to various languages.
Sources:
[1] "Use brand domains with your HubSpot tools", HubSpot Knowledge Base, 4 February 2021 (https://knowledge.hubspot.com/cms-general/use-brand-domains-with-your-hubspot-tools).
[2] Nicolas Mondollot, "Making your website multi-regional using top-level domains", Medium, 15 April 2015 (https://medium.com/unexpected-token/making-your-website-multi-regional-using-top-level-domains-cdbbdb951b65).
[3] "Multi Domain MultiLingual Corporate Site Project", Unimity Solutions (https://www.unimitysolutions.com/insights/multi-domain-multilingual-corporate-site-project).
[4] "Manage domains for multilingual sites", HubSpot Knowledge Base, 15 January 2021 (https://knowledge.hubspot.com/cos-general/how-do-i-manage-domains-for-multilingual-sites-on-hubspot).
[5] Mike Hubbard, "3 Approaches for Managing Multiple Company Websites", Acro Media, 17 December 2019 (https://blog.acromedia.com/3-approaches-for-managing-multiple-company-websites).
[6] "Use brand domains with your HubSpot tools", HubSpot Knowledge Base.