Turbo Nickel Pack Presentation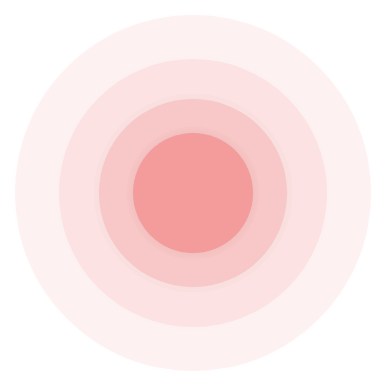 We are happy to introduce our brand-new Turbo Nickel template. A non-standard solution with three classy blogs which contain plenty of space to represent your gleaming content. Fresh forms, stylish blocks, multiple categories, social sharing - everything for your new successful business strategy!
After purchasing Turbo Nickel pack from the HubSpot marketplace you will get:


2 - error page templates

1

- backup unsubscribe template

3

- blog templates

1

- subscription update confirmation template

1

- subscription preferences template

5

- landing page templates

3

- email templates



Are you good at storytelling and content creating? Have dreamed about a prosperous blog campaign? This time has come! People love human stories and appreciate case studies that work. With Turbo Nickel you have an excellent opportunity to encourage clients, make them cheerful with pieces of knowledge and engaging with your products and services.

Our template is made in drag & drop technology according to the best HubSpot coding practices and standards.



All modules can be easily edited from the backend.



Let us introduce you our unique 16 custom modules, which different pages include. Hover over particular module until you see a transparent pink shade with loupe icon. Then click on the module to check how it looks from the backend.
---
Page name: Landing #1 video
Module: ni-richtext-form-banner
It's a perfect formula for the successful feedback. The questionnaire incorporates all necessary information about your clients for further contact. This specific form will cause the expansion of your ideal customer rate.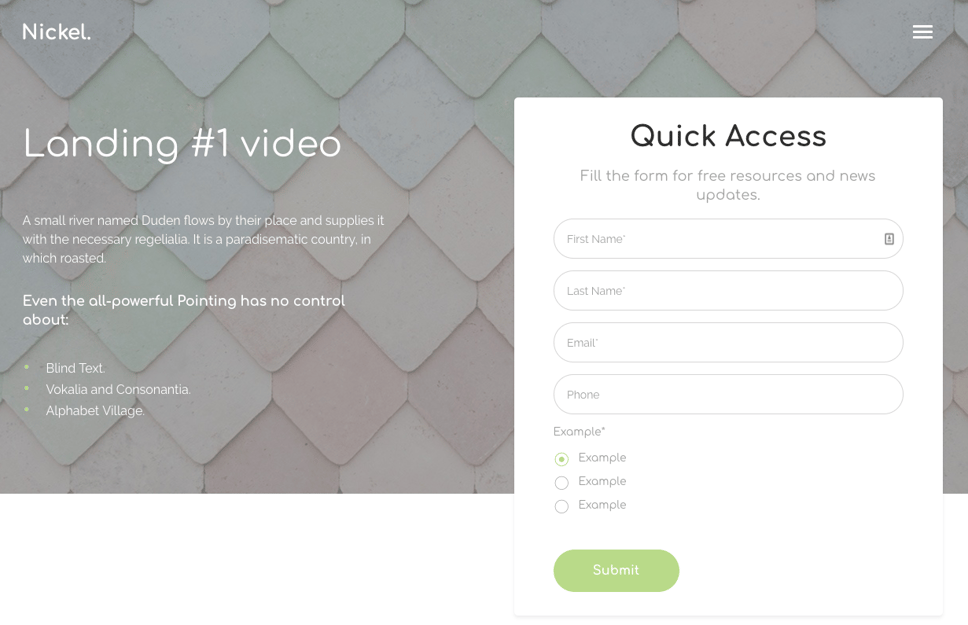 Module: ni-feebox-large-bordered
Distinguish all unique single posts here. Choose the best graphic pic from 13 Nickel Icons especially developed for Turbo Nickel templates to achieve incredible results. Check all of them by clicking here. You are also free to use the own image instead of the icon.
Also, explore our blog post about How Nickel Icons Work.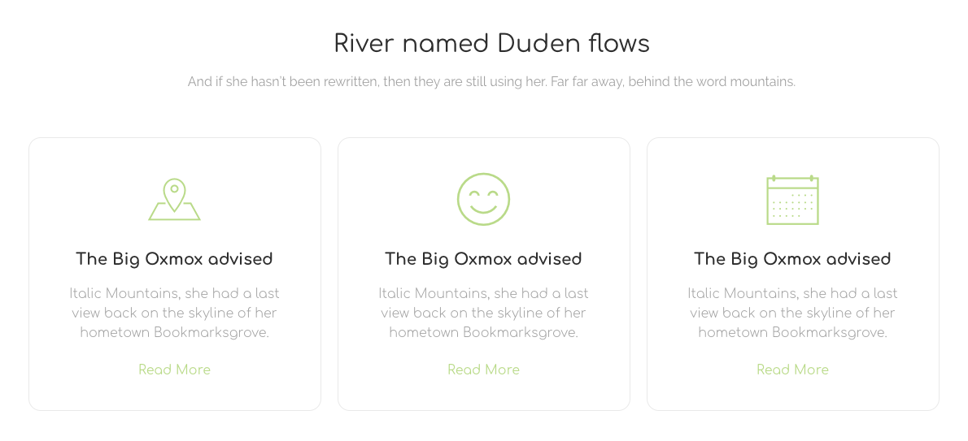 Module: ni-separator-cta
Polished subscription form for email notifications about recent blog posts.

Module: ni-videobanner
Place your attractive movie here. Press the play button, and the video will start in a popup window. Possible to change into a background image and set the mask opacity.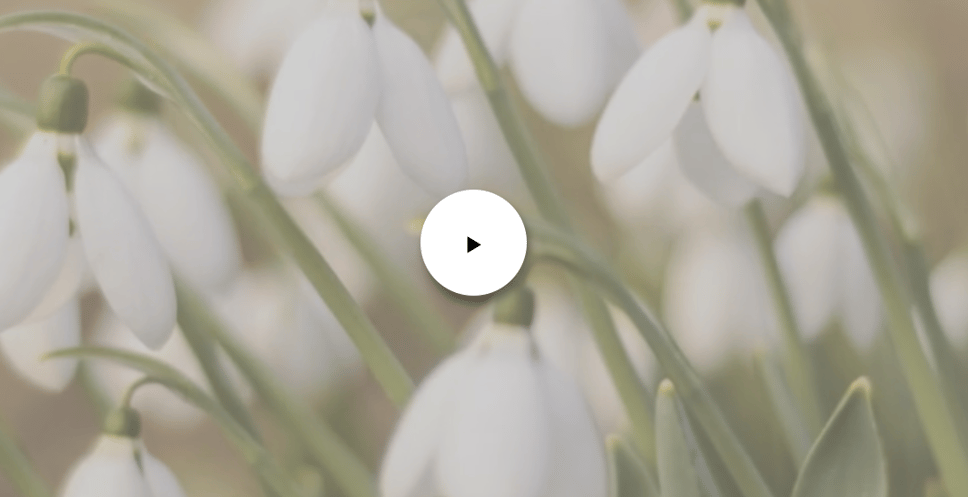 ---
Page name: Landing #2 event
Module: ni-event-banner
It's the final countdown! Yes, like in that song. Per second reading of the time remaining to your unique event, promotion, action, special offer and much much more! What's incredible, you can install different timezones for each country or just focus on that one you prefer the most. After expiry of the term, the timeline disappears and any inscription proposed by you goes instead.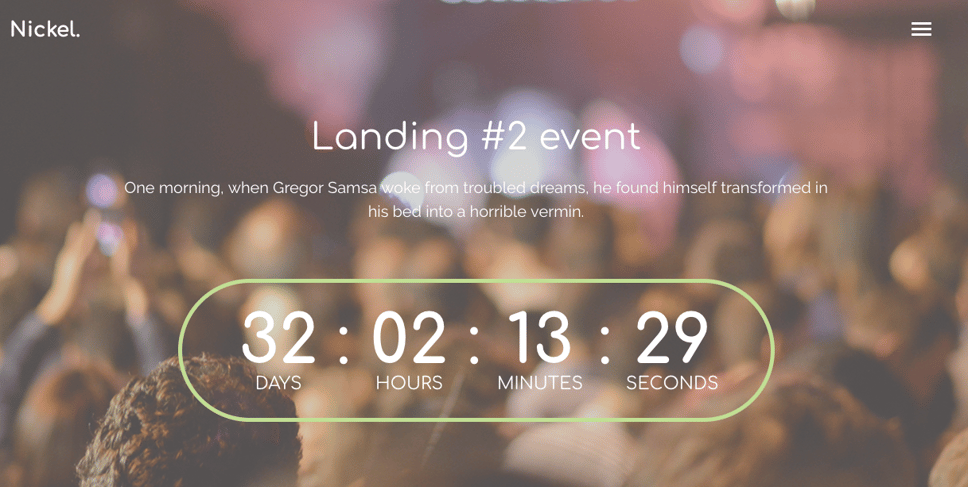 Module: ni-small-feedbox
The minimalistic area where you can underline some features with beautiful icons or any desired graphic images.

Module: ni-text-and-gallery
Do you carry out some exciting activities? It's time to share them with your online viewers. Set the gallery with best moments and encourage to visit the next event.

Module: ni-single-speaker
Introduce all your excellent team involved into the briefing, event, meeting. Set personal information, the time of the speech, and location.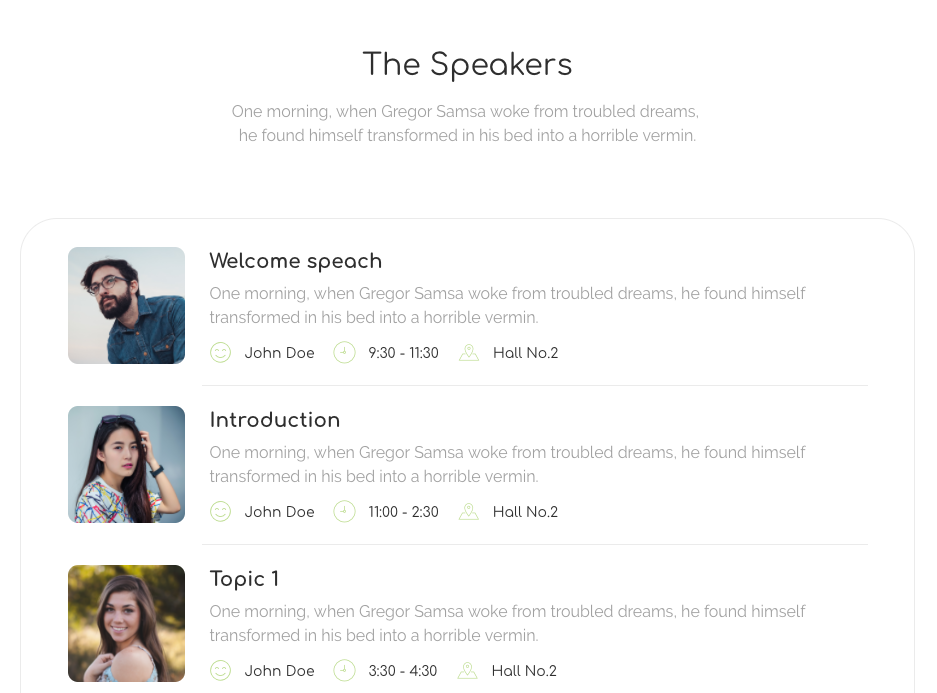 Module: ni-contact-with-map
This module contains a high-quality Google map, which shows your departure exact location. We created a stylish Nickel marker to underline your spot.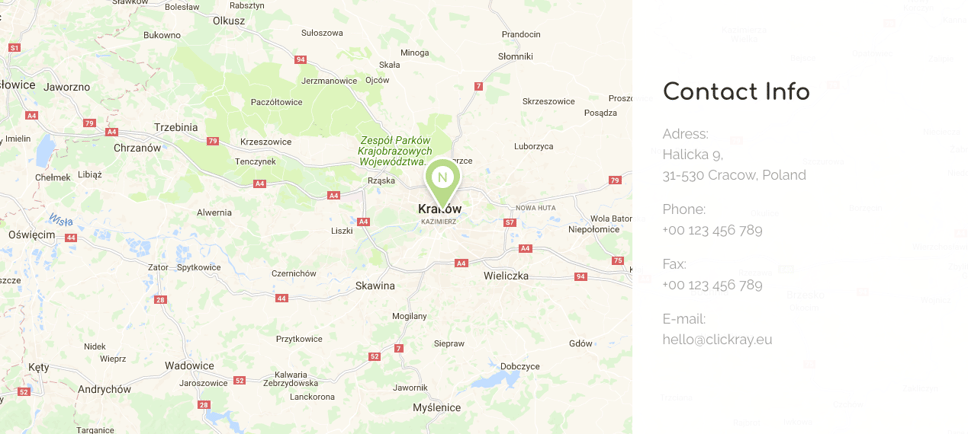 ---
Page name: Landing #3 ebook
Module: ni-book-form-banner
Another great form as a powerful tool for communication with your leads and not only. Promise a free giveaway for subscription in return.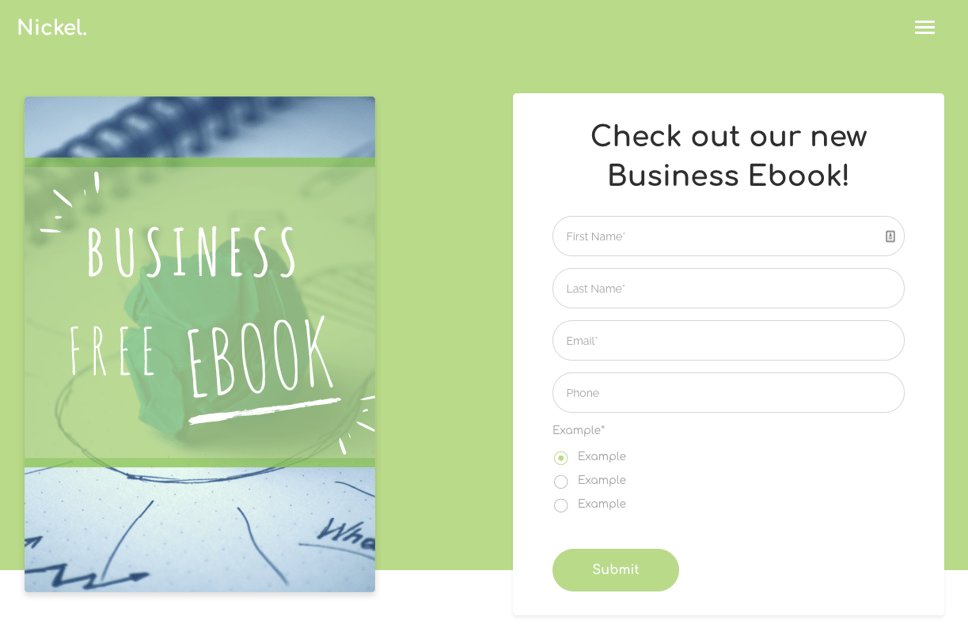 Module: ni-feedbox-medium-left-align
Point the core advantages of your products and services by using stylish Nickel Icons, fill each field with a short description.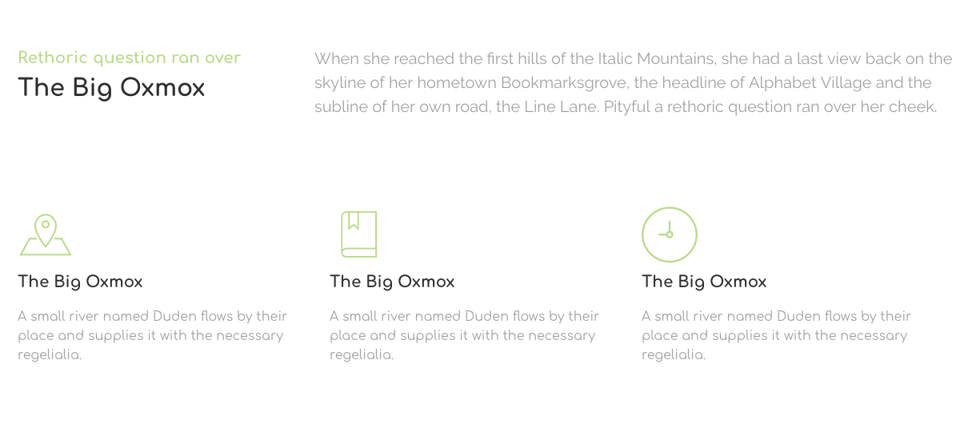 Module: ni-text-bg-banner
The extensive field for your ideal content which refers visitors to a new step and makes them take action.

---
Page name: Thank you #1 ebook
Module: ni-thank-you-page-1
Thank you page is the next step with excellent opportunity to nurture the lead down the sales funnel. Set the gratitude message and enable your CTA.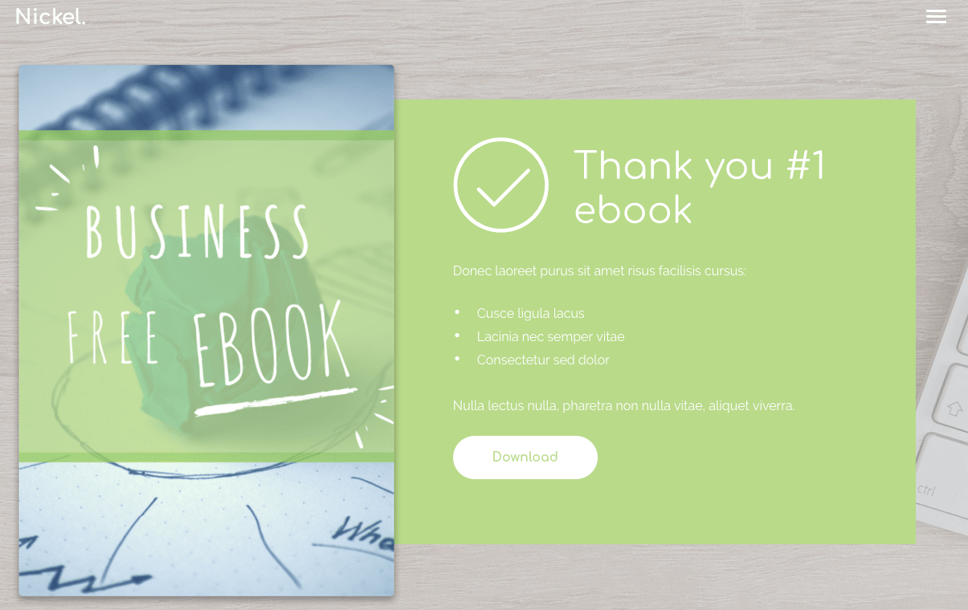 ---
Page name: Thank you #2 simple
Module: ni-thank-you-page-2
Pure page to deliver to your subscribers on what you promised without further ado :)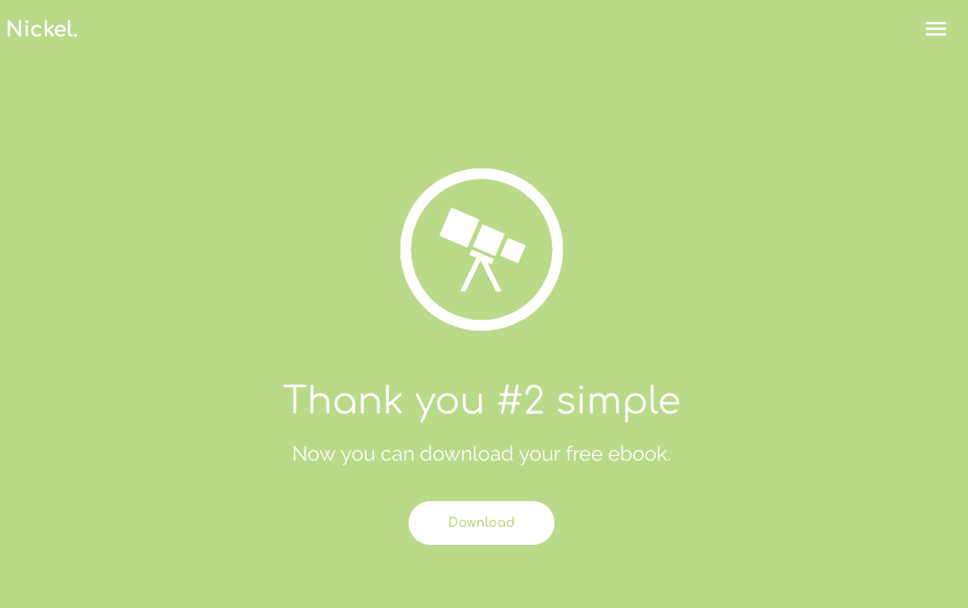 ---
Page name: Blog #1 sidebar, Blog #2 block, Blog #3 classic
Module: ni-hero-banner-blog
How to entice the customer thought the blog post? Start from the hero banner! Header with a background are the first things, which are visible on the page. Their purpose is to arouse an interest at the beginning.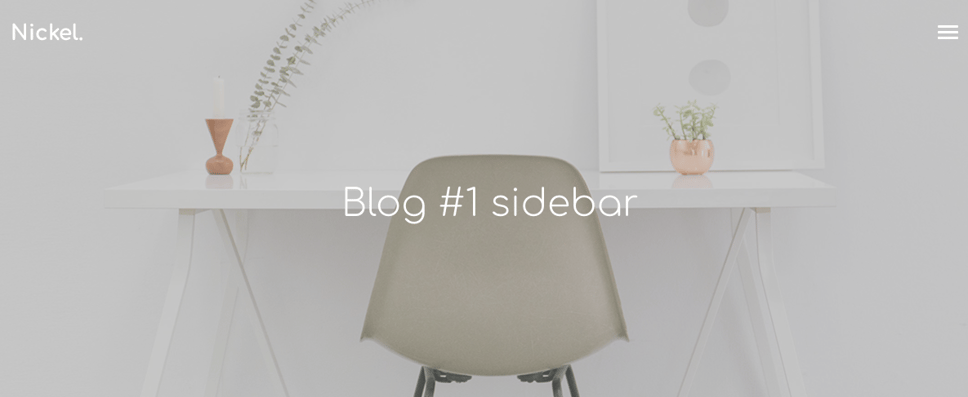 ---
Page name: Blog #1 sidebar, Blog #3 classic
Module: ni-cta-box
The sidebar is a great place to attract attention and delight your buyer personas. Your CTA box especially fits here. Get your readers to take action while they are deep in your content.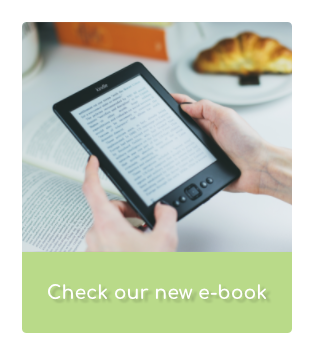 ---